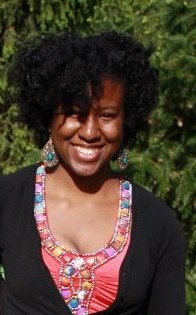 My name is Esteniolla Maitre–my friends call me Esty for short–and I am a sophomore at Bryn Mawr College. I am Haitian-American, was born in Brooklyn, NY, and have spent most of my life in the predominately Caribbean, Boston neighborhood, Mattapan. I live the life of a Posse Scholar, a recipient of a leadership scholarship; therefore, I am always seeking opportunities that allow me to define and redefine what "leadership" is and, most importantly, what it should look like, especially in education.
Growing up in a low-income household as the daughter of a hard-working, immigrant mom, I always knew the value of education. However, in high school I realized that just knowing the value of education was not going to guarantee me, and students of my similar background, a deserved education. It became apparent  that aspects of the American education system were not designed with me in mind. So I had two options: give up or push back. Although giving up would have been just as hard to do, with my mother in mind, I decided to push back.
Throughout high school I organized with the Boston Student Advisory Council (BSAC), a district-wide cohort of young people who advocated for Ed Reform policies in Boston Public Schools. I was a founding member of the Youth United for the Now Generation (YOUNG) Coalition, a coalition between BSAC and two other Boston youth organizing groups invested in Ed Reform. And by senior year, I chaired the Student Representative position on the Boston Public School Committee alongside the Superintendent. It was my responsibility to represent and advocate for the 56,000 students in the district.
By May 2011, I graduated at the top of my class with a diploma and scholarship to Bryn Mawr College–feats that seemed impossible at many points my life.
Now, at Bryn Mawr, my passion for education reform is centered in the classroom and so, I plan on declaring a Writing Major/Education Minor with a teacher certification track. I find great joy in teaching and I have been blessed with opportunities that have allowed me to do so. Through Bryn Mawr I have had the pleasure of tutoring students at Gotwals Elementary, teaching as a writing instructor in the Mentoring and Student Teaching Program (MAST) and traveling to the Titagya schools in Dalun, Ghana–experiences that will forever shape my outlook on education and my career goal of opening a school one day.
When I am not thinking about education, which is rare, I enjoy doing anything that involves the arts. I love playing my clarinet and dancing, listening to music (Classical and R&B are my favorite!), going to see a play, symphony, or a dance, and attempting to make art. I also enjoy hiking, camping, walking along the Charles River in Boston, riding my bike, reading about Haiti, collecting earrings, eating, eating some more, living in Brecon and having a good conversation.
I hope you enjoy reading my thoughts and reflections on my experience as a Bryn Mawr woman!